Cellular Pathology User Survey Results 2020
Many thanks to those of you who took the time to respond to our annual survey in 2020; we know it has been a particularly difficult year.
The big positive for us was that 100% of respondents would recommend the service to a colleague: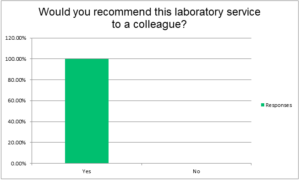 Suggestions for improvement:
You said: Better staffing to keep up with ever increasing demand.
We said: The teams are working hard to ensure they can keep up with demand for the service and management are actively monitoring staffing levels. Currently the cellular pathology department has 4 BMS trainees, two newly qualified BMS, two newly qualified specialist BMS, and has recruited 2 additional pathologists.
You said: No on call service is not really good enough in this day and age.
You said: No regional out of hours for Christmas, Easter or emergency histology cover for the once per year onc emergency cord comp scvo etc
We said: We will put your concerns to our Divisional Managers, however the need for out of hours or emergency histology is extremely infrequent and on-call funding may not be granted in Exeter.
General comments given about the laboratory service:
The cytology service is particularly excellent with a rapid turnaround of results for patients with lung cancer.
It is difficult to be totally objective about the lab as we've just had such a big system change going to MyCare.
Good quality service with excellent staff and quality opinions.
The cytopathology team are well-organised, well-trained, highly motivated and extremely dedicated; continually evaluating their service to ensure they deliver and develop the best possible service for patients and clinicians.