News
Urine hCG pregnancy testing no longer available
December 11th, 2017
Please note that the urine hCG pregnancy assay is no longer available to be requested at the Exeter Blood Sciences Laboratory.
The serum hCG assay service is still available.
---
New Golimumab drug and anti-drug antibody service
November 15th, 2017
The Royal Devon & Exeter Blood Sciences Laboratory are pleased to introduce a new therapeautic drug monitoring service for Simponi (brand name Golimumab).  Golimumab targets tumour necrosis factor alpha (TNF-α), a pro-inflammatory molecule and this drug is used as an immunosuppressant in the treatment of rheumatoid arthritis, psoriatic arthritis, ulcerative colitis and inflammatory bowel disease.
We are offering both drug and anti-drug antibody tests. We are currently the only laboratory in the UK offering these drug and anti-drug antibody tests. These new assays have expanded our monoclonal antibody service, which also includes drug and anti-drug antibody levels for Infliximab and Adalimumab. We are also currently undertaking a service evaluation for Vedolizumab drug levels.
More information can be found here at our website: http://www.exeterlaboratory.com/search/
---
Parental Exome Sequencing strategy published
November 14th, 2017
Diagnostic exome sequencing carried out by the Exeter Exome team at the Molecular Genetics department has been highlighted in a publication accepted this month by the journal Prenatal Diagnosis. The paper outlines the parental exome sequencing strategy used in 50 consecutive cases to diagnose lethal autosomal recessive disorders in couples who have endured unsuccessful pregnancies. It describes how, using exome sequencing, it is possible to determine which genetic variants are likely to be causative and so enable prenatal testing for future pregnancies and improve patient outcomes. The paper abstract can be found by clicking on this link.
---
Molecular Genetics department receives funding to develop non-invasive lung cancer test
October 31st, 2017
A request for funding  made by Chris Bowles of the Molecular Genetics department to develop genetic testing for a specific type of lung cancer has been awarded a grant by local cancer charity FORCE .  The test will enable patients with non-small cell lung cancer (NSCLC) to be monitored using blood tests rather than tumour biopsies by detecting circulating tumour DNA (ctDNA). This will reduce the need for unpleasant biopsy procedures, improve turnaround time for results from weeks to days and improve monitoring and targeted treatment of patients. Further details about the grant and development can be found in the Autumn 2017 FORCE newsletter.
---
New hyperinsulinism and polycystic kidney disease gene discovered by Exeter team and collaborators
October 13th, 2017
As recent publication in the Journal of the American Society of Nephrology from research carried out by the Exeter genetics group and an international group of collaboratorshas identified variants in the PMM2 gene as a cause of hyperinsulinism and polycystic kidney disease.
All of the patients in the study were affected with hyperinsulinism, which can cause dangerously low blood sugar, and fluid filled sacks on their kidneys, called cysts, which can affect how well the kidneys function. The PMM2 gene encodes the instructions for making a protein called phosphomannomutase 2, and this new finding implicates the gene in both hyperinsulinism and polycystic kidney disease. All the affected individuals carried a heterozygous variant just outside the PMM2 gene that is essential for regulating it, and either had two copies of this variant or also had a variant within the gene that affected the protein sequence. The specific phenotype of the patients differs from individuals with two variants in PMM2 affecting the protein, and this study has increased the number of genetic causes of both hyperinsulinism and polycystic kidney disease, as well as providing new information on the regulation of PMM2.
---
Molecular Genetics team members get their trainers on!
October 10th, 2017
Members of the diagnostic Molecular Genetics team are putting on their trainers to raise money for FORCE on Sunday 15th October by participating in the Great West Run.
FORCE is a local cancer charity providing much-needed support to those affected by cancer in the Exeter and wider Devon region.
The Great West Run half-marathon (13.1 miles) will take our participants through the heart of Exeter and up and down some VERY steep hills, so if you would like to donate and support the fantastic work FORCE do, please follow this link.
Wish us luck….!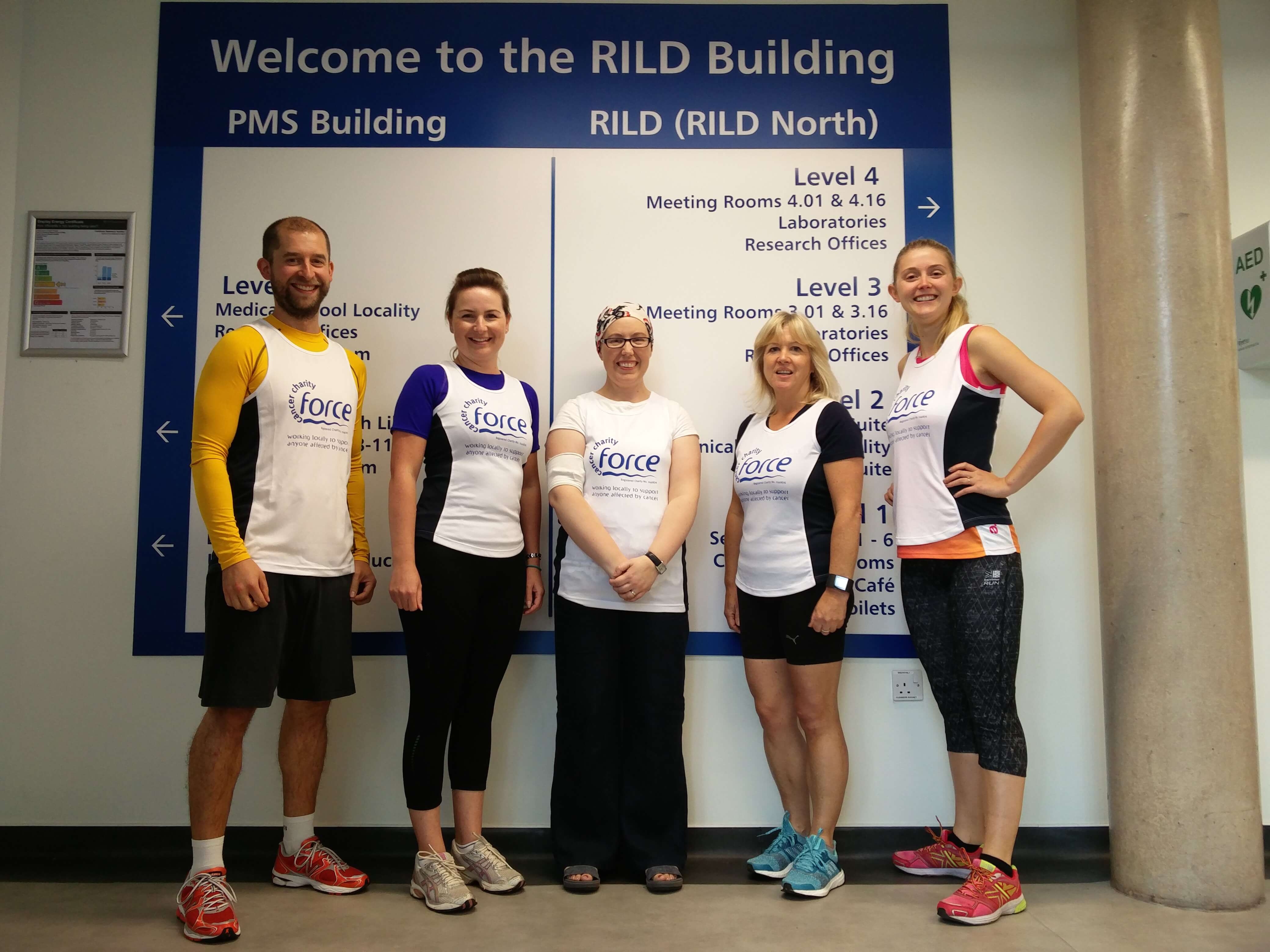 Molecular Genetics Team Members (L-R): Michael Day, Melissa Sloman, Martina Owens, Sian Ellard and Anna-Marie Bussell
---
Molecular Genetics supporting Jeans for Genes campaign
September 22nd, 2017
The Molecular Genetics team have been getting behind the Jeans for Genes campaign to raise funds for Genetic Disorders UK by donating money to wear jeans to work for the day. This annual event raises money to improve their quality of life and provide support to children and their families affected by a genetic disorder.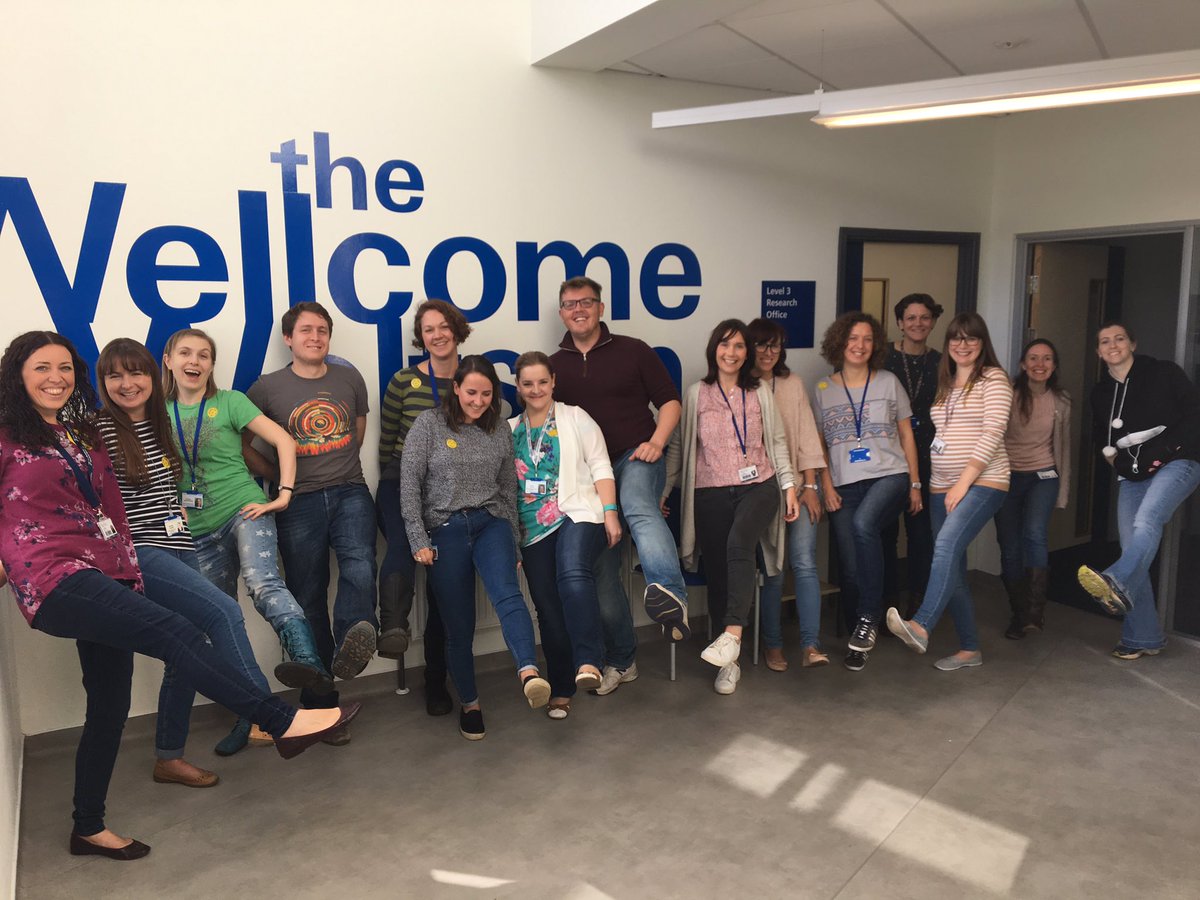 ---
GP Cervical Sample Taker Codes
July 7th, 2017
All registered GPs (except some salaried GPs) have a cervical sample taker code which is automatically generated by our laboratory IT system which uses their name to raise a code. In other words the GPs name and sample taker code are linked. We haven't issued the actual code for this reason but GPs can of course contact the laboratory for their code if they wish. Salaried GPs will need to contact the laboratory to see if they have an automatic code, or need to request one.
Please note: NHS England are sending out a survey regarding sample taker codes, so please do not include GP's (except salaried GPs) in your response.
---
Exeter molecular genetics laboratory are recruiting!
June 8th, 2017
An exciting opportunity has arisen to join the Exeter Molecular Genetics Laboratory as a Band 6 Healthcare Scientist.
The department of Molecular Genetics at the Royal Devon & Exeter NHS Foundation Trust is at the forefront of NHS Genomic Medicine, providing state-of-the-art diagnostic testing services that utilise specialist gene panel, exome and genome analyses to make diagnoses for the benefit of families with rare diseases across the UK and beyond.
Full details of the role and how to apply can be found here: https://www.jobs.nhs.uk/xi/vacancy/95a1ba041b087fbd4af307029aea3709/?vac_ref=914656686.
Closing date is Wednesday 21st June 2017.
---
New molecular testing for malaria
May 24th, 2017
As of the 22nd of May Exeter Clinical Laboratory will be using a new molecular technique to screen for malarial infections. Detail can be found here
---