CELLULAR PATHOLOGY USER SURVEY 2019
Many thanks to those of you who took the time to complete the Cellular Pathology user survey in 2019
Overall Cellular Pathology service: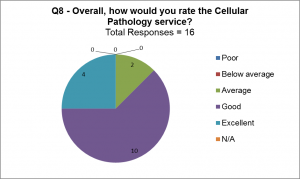 87.5% of responders would rate The Cellular Pathology Service either Good or Excellent
You said
• Always approachable and helpful.
• Feel that the department is under a lot of pressure, but works hard to get our results out quickly and accurately. In house HER2 would be awesome!
• Out of hours pathology for oncologic emergencies not available. No ability to incorporate genomic data in the pathology.
• Fabulous one stop clinic help from Cytology.
We said
• HER2 is centrally funded and therefore currently cannot be carried out on this site.
• Unfortunately the Cell Path team are not responsible for reporting genomic results and so we have no control over the way genomic data is reported.
• Many thanks – We always aim to provide an excellent ROSE service for all of our users.
Turnaround Times:
You said
• Sometimes turnaround times for Histology are reasonable for H&E 3-5 days, but often not.
We said
• We are working on recruiting more Pathologists to improve our turnaround times
Quality and clinical relevance of reports:
You said
• When slides go off to backlogs the reports are of varying quality and there is often an unacceptable delay in getting slides back.
We said
• We are working on recruiting more Pathologists to avoid sending slides away.
CERVICAL CYTOLOGY USER SURVEY 2019
Many thanks to those of you who took the time to complete the Cervical Cytology user survey in 2019.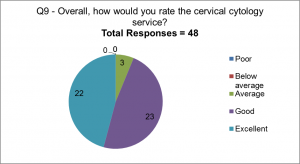 94% of responders would rate The Cervical Cytology Service either Good or Excellent.
You Said
Website
• Have just had a look and added to my favourites – it looks good.
• Very clear always found all the info I needed.
• Just found it and accessed it without difficulty, very informative.
Availability and quality of technical and clinical advice
• The advice and assistance I have received has been very helpful.
• Not accessed it yet.
• Rang the lab a few times and have always found them to be very helpful and efficient.
• Always willing to answer queries in a timely fashion, really helpful.
Quality of sample taker training
• I visited as part of my training. Extremely helpful staff and made to feel very welcome.
We said:
• Many thanks for your comments – they are appreciated.
Transport of samples:
You said:
• As a Practice of 15,500 pts we only get a 1x daily courier collection. A further pm collection would be desirable.
We said:
• As the laboratory turnaround times are within the 14 days, it is not considered essential to increase the number of collections at this time.
You said:
• Slight confusion since the addition of the orange bags – it's a lot of plastic – can more than one sample go into an orange bag at a time, and is anyone looking at more eco-friendly options?
We said:
• We will investigate the use of biodegradable bags as an alternative to plastic.