CYTOLOGY ROSE CLINIC FEEDBACK 2021
As part of our annual user survey, we asked for specific feedback on our Rapid On Site Evaluation (ROSE) clinic service.
93.8% pf those who participated in the survey rated the cytology ROSE service as excellent.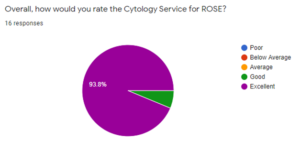 Comments and suggestions:
Exeter Laboratory website – what other information would you like to see?
You said:
The EUS pancreas service should probably be described as an EUS Upper GI/HPB service.
We did
We have now changed this description on our website to EUS Upper GI/HPB service.
Rapid On-Site Evaluation (ROSE) Cytology Clinic:
You said
A fantastic service in the H&N 1-stop clinic. Very friendly, knowledgeable cytologists.
Nationally recognised (GIRFT) for lung. A truly outstanding service.
Ability to use ROSE moving forward will be vital due to complexity of pathways and pressures on other diagnostics.
We said
Thank you – we aim to please!
Suggestions for ROSE service improvement:
You said
Only greater availability for ROSE, but there is a brilliant can do attitude towards this.
We said
We are looking to develop the team in order to facilitate this.