Specimen Collection – General Guidance
Bacteriology Specimens
 The objective of laboratory testing for bacterial and fungal infection is to isolate viable organisms therefore proper specimen collection and prompt transport arrangements are required.
The results of the laboratory are limited by the quality of the specimen and its condition upon arrival in the laboratory.
Errors in specimen collection and transport are the commonest reasons for failure to ascertain cause of infection.
Contamination
Specimens should be collected from patients with care to minimize the possibility of introducing extraneous or contaminating microorganisms. This precaution is needed to distinguish commensal or 'normal flora' from organisms causing infection. The presence of commensal flora at site of infection will mask the true aetiological agent making isolation more difficult.
The list below gives common sites of contamination from specimen sites which are adjacent to body sites having more resident normal flora than others.
| | |
| --- | --- |
| Site of Infection  | Source of contamination |
| Middle Ear | External ear canal |
| Nasal Sinus | Nasopharynx |
| Lower respiratory tract | Oropharynx |
| Endometrium | Vagina |
| Superficial wounds/Subcutaneous infection | Skin and mucous membranes |
| Abdominal fistulae | Gastrointestinal tract |
| Bladder | Urethra and external genitalia |
Prevention
Careful skin antisepsis before collection procedures, such as blood cultures and lumbar punctures will decrease risk of false positive findings from contaminants normally present on the skin.
Specimens should be collected directly from normally sterile sites and body fluids by methods such as needle biopsy or aspiration or surgical biopsy.
To help us to optimise organism recovery
If available, infected tissue or infected fluid is preferable to swab as this will contain more material.
Specimens should be collected during the early (acute ) phase of an infection
Specimens should ideally be collected before initiation of antimicrobial therapy.
Specimens should be transported to the laboratory as soon as possible.

Some microorganisms ( e.g. Neisseria gonnorhoeae) survive for only a short time outside the body.

To minimize the effects of specimen transport delay:

Swabs are collected into transport medium which prevent drying and minimise bacterial growth during transport.
Boric acid containers are provided for urine specimens which also minimize bacterial growth.
Details of specimen collection procedures for specific sample types/tests can be found on the test pages on this website – click here to search.
Virology & Molecular (PCR) Specimens
Please read this guidance on Biotin Interference prior to taking samples for serological testing – Biotin Alert (Potential Assay Interference)
Requirements for specimen containers for collection of blood for Serology and Molecular (PCR) testing can be found on the test pages on this website – click here to search.
Please click here for a poster that gives guidance on blood collection and order of draw for collection tubes: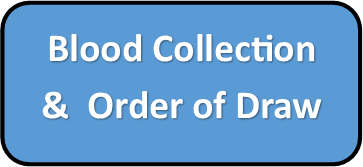 Once collected, blood samples must be transported to Microbiology ASAP.