Royal College of Pathologists Survey 2021
Thank you to all who participated in this survey during September 2021.
100% of respondents would recommend the laboratory to a colleague.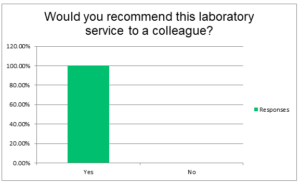 When asked: How might the cellular pathology service be improved?
You said:
'When histopathology results come to the practice they are quite difficult to see clearly – especially if there is more than 1 specimen result. The way the text is laid out makes it unclear and feels a little unsafe'
We did:
The Pathology IT Manager is currently looking into how histology results are displayed via GPOCS.
Follow up:
We have discussed the report views with the IT manager and have checked how the reports should appear to you and have not identified any issues.
Please contact the laboratory directly at rde-tr.cellularpathology@nhs.net if you continue to have an issue with this.
When asked for any other comments on the service
You said:
'We're very fortunate to have such a good service here in Exeter'
'Excellent cytology and pathology support for the lung cancer service allowing rapid diagnosis of patients, including rapid term of EBUS cytology with results invariably available for the MDT or within 24 hours for urgent cases.'
'Great service – Thank you very much for your hard work in challenging times.'
'A very reliable service – thanks'
We said:
Thank you for this positive feedback.
The teams have worked very hard to maintain our service continuity throughout the pandemic.