ADAMTS-13
---
Specimen
3x Coagulation tubes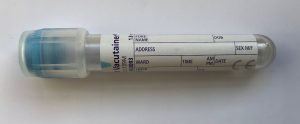 Blood should be collected by clean venepuncture, using 19-21 gauge needles, into a 3ml citrate tube. Minimal stasis should be applied, with free flowing blood. Butterfly type needles may be convenient where multiple sample types are being collected. If blood must be collected through an indwelling cannula, this should be flushed with saline or balanced salt solution and the first 5-10ml blood discarded (try to avoid lines that have contained heparin).
Special Instructions
Only available after prior discussion with a Consultant Haematologist.
If sanctioned, samples will be sent by same day courier to the referral centre.
Factors affecting results
Specimen tubes must be filled correctly.
Test Usage
Aid diagnosis of Thrombotic Thrombocytopenic Purpura
Availability
During core working hours:
Haemostasis Laboratory, Bristol Royal Infirmary
Contact: Amanda Clarke or Andrew Mumford (via switchboard)
Weekends & Bank Holidays:
National HUS Centre, Newcastle-Upon-Tyne
Other information: A TTP register now exists. All relevant information is held in electronic format (QP)by the Haematology Lab
Turnaround time
Urgent – Within 12 hours of receipt in the laboratory
Non-Urgent – Within 3-4 days
Clinical Advice
Clinical advice is available from the Haematology Medical team (contact RD&E switchboard on 01392 411611)
Specimen Labelling Procedure