Formalin filled specimen containers
 Specimen Containers with Formalin Warning
Specimen containers are available from the pathology stores (Telephone 01392 402906).
Prefilled formalin pots are available in 20ml, 60ml and 120ml.
Larger containers up to 20 litres are supplied empty.
PLEASE ensure that the container size allows the specimen to be completely covered in formalin to ensure good fixation, failure to do this MAY render the specimen unsuitable for histological examination (see below for the range of containers).
ENSURE that the lid is fitted properly to avoid fluid leakage.
Label the container clearly with the patients details as on the request form (full name, D.O.B., hospital/NHS number) and add the specimen type and site. Hospital cases should use a PAS label whenever possible.
The following key aspects apply at all times:-
Always ensure any open cuts/abrasions on skin are covered.
Carry and transport specimens in the approved transport containers provided.
Do not accept any samples not sealed into a plastic bag.
Do not collect any sample that is leaking from its container. If the specimen leaks after collection and transport, but is contained within its bag deliver it to the Laboratory and alert a member of Reception staff to the situation. Spill kits are available at pathology reception areas.
Staff that are in the process of being vaccinated or are not fully immunised must not handle leaking samples and must notify a senior member of staff
If a specimen leaks onto your work clothes, you should remove the contaminated clothing as soon as possible and then wash your hands.
DO NOT take the clothing home for laundering. Report the accident to one of the  senior laboratory staff and your supervisor as soon as possible
Safety information regarding the handling of formalin can be found here: Neutral Buffered Formalin REACH 4 4
Correct specimen pot selection
The available sizes of specimen pot for histology specimens are as follows. Please ensure that the appropriate sized pot is used for the specimen taken. The specimen should be covered with a sufficient amount of formalin to allow adequate fixation, the specimen should not touch the side of the specimen pot, or placed such as to alter its' shape.
Help us to achieve optimum fixation and to provide you with the best possible opinion by using the appropriate sized specimen pot.
RANGE OF SPECIMEN POTS AVAILABLE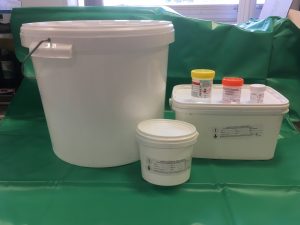 POT A
Internal dimensions are 3cm diameter by 3.5cm high.
20ml pot ideal for skin curettings, endoscopic biopsies, fine needle cores, skin punch biopsies.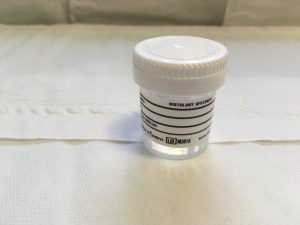 POT B
Internal dimensions are 4cm diameter by 5cm high.
60 ml pot ideal for prostate cores in cassettes, bresat cores in cassettes, skin ellipse, endometrial curettings and pipelles, small lymph nodes, tonsils, mouth biopsies.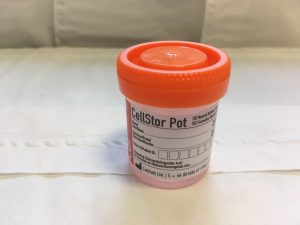 POT C
Internal dimensions are 5cm diameter by 6.5cm high.
120ml pot ideal for TURP, TURBT, appendix, gallbladder, sentinel nodes, large lymph nodes, skin ellipse, fallopian tubes, foreskin, breast cavity shaves.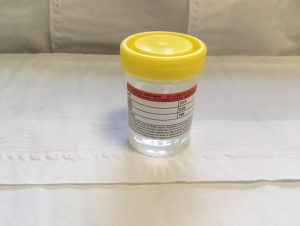 POT D
Internal dimensions are 12cm diameter by 9cm high.
1000ml pot ideal for large gallbladders, P.O.C. in the fabric trap, uterus with or without tubes and ovaries, small breast lumps, lipomas, cysts, short lengths of bowel, prostate, femoral heads.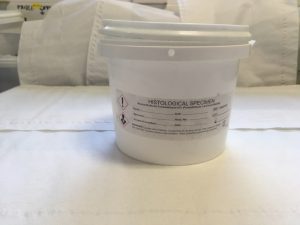 POT E
Internal dimensions are 26cm long by 17cm wide by 10cm high.
5 litre pot ideal for neck dissections pinned to the cork board, large fibroid uterus, placentas, lengths of small and large intestine, mastectomy specimens, breast reductions, large cysts, kidneys, bladder and prostate, large pieces of soft tissue and omentum.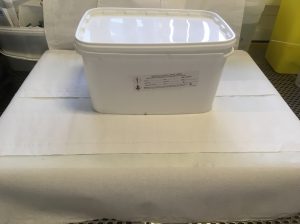 POT F
Internal dimensions are 30cm diameter by up to 20cm high. The danger with this size of specimen pot is that it can become quite heavy with the combined weight of the specimen and formalin.
25 litre bucket for the largest specimens such as ovarian cysts, bulky uterus, long lengths of bowel, mastectomy specimens.