Microbiology News
Exeter Laboratory Newsletter April 2021
April 26th, 2021
Exeter Laboratory Newsletter April 2021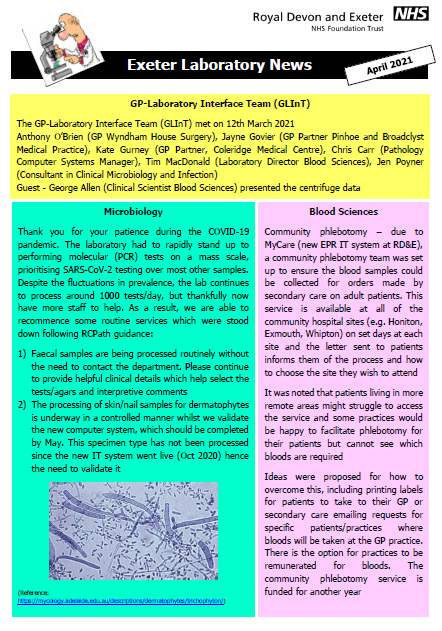 ---
Update – SARS-CoV-2 serology assay – 22nd March 2021
March 16th, 2021
As of 22nd March, we will be detecting antibodies to both the Nucleocapsid antigen (anti-N) and the Spike antigen (anti-S) of SARS-CoV-2 for all requests, and we will report each antibody separately. This test is run in the Blood Sciences laboratory on serum samples.
SARS-CoV-2 antibody takes up to 4 weeks to develop post-COVID-19 infection or vaccination. Data to correlate antibody with protection against re-infection is currently lacking, but is an important element of the national SARS-CoV-2 research programme. For example, many RDE staff are participating in the SIREN study which is looking at re-infection rates in Health Care Workers post primary infection and/or vaccination.
Natural infection will result in both Anti-Spike antibody and Anti-Nucleocapsid antibody production, with ~95% of cases giving positive results.
Current vaccines (Pfizer, AstraZeneca) stimulate production of Anti-Spike antibody only, and not of Anti-Nucleocapsid antibody.
Please contact Microbiology for queries and to discuss any aspects of this test.
AUCKLAND, Cressida (ROYAL DEVON AND EXETER NHS FOUNDATION TRUST) cressida.auckland@nhs.net
MICROCONSULTANTS (ROYAL DEVON AND EXETER NHS FOUNDATION TRUST)  rde-tr.MicroConsultants@nhs.net
---
RD&E Covid-19 Testing Service
May 22nd, 2020
Dear colleagues
Did you know that the RD&E is providing a COVID-19 testing service for all symptomatic* health and care staff working or living in North and Eastern Devon?
Health and care staff with a symptomatic household member can also use the testing service.
To book a slot, simply complete this online referral form or call 01626 204950.
If you have any questions, please email d-ccg.devoncovid19testing@nhs.net
Kind regards,
The RD&E Testing Service
---
Microbiology – Changes to Sample Processing during Covid-19
April 7th, 2020
Clear Urine
During the COVID pandemic, clear urine samples are not being processed. Infection is unlikely when the urine appears clear. Consider repeat sample or empirical treatment following NICE guidelines.
Sputum samples
Non-mucoid samples will not be processed as poor quality samples. Consider repeat sample if clinically indicated.
Superficial wound swabs
Specimens will not processed if there is a lack of clinical details. Please consider if this sample is clinically required and would change management. Promote good wound care and only consider antimicrobial therapy for superficial wounds when there is spreading cellulitis.
Mycology testing
During the COVID pandemic, mycology samples are not being processed. Repeat samples should not be sent until the laboratory can confirm they will be processed.
Faecal samples 
During the COVID pandemic, non-bloody faecal samples will not be processed. Most cases of infectious gastroenteritis are self-limiting and do not require treatment. If there are specific concerns in an immunocompromised patient, please discuss case directly with microbiologist via email rde-tr.MicroConsultants@nhs.net
Please note, faecal sample processing is limited to direct culture for Salmonella, enrichment culture will not take place. If high clinical concern of Salmonella, please consider sending a repeat sample if initial sample negative.
MRSA
MRSA testing is restricted to admission to high risk in-patient areas – ITU, NNU, vascular surgery, elective orthopaedic surgery, renal and haematology/oncology. Please do not send swabs from patients in other areas unless previously positive.
---
COVID-19 Laboratory Testing Update
March 13th, 2020
COVID-19 testing is performed using PCR technology (i.e. to detect the viral RNA). Test sensitivity is dictated by the amount of virus on the swab and is therefore influenced by (1) the timing of the test in relation to the symptoms and (ii) the quality of the sample (operator-dependent). A test should be interpreted in light of the pre-test probability (severity of symptoms, their level of exposure, the disease in the contact); no test is 100% sensitive or specific.
Serological testing is NOT available currently (27th March 2020).
• COVID19 RNA is detected on a Nasopharyngeal swab (Red COPAN or Yellow COBAS) by PCR (or BAL if on ITU)
• Follow Trust guidelines as on HUB
• All samples need to be requested on Medway using the "COVID-19" request
• Do not send repeat swabs unless agreed by Micro
• If unable to use Medway, use Virology form (we would rather you didn't)
• If Flu testing is also required, please write this in clinical details
• Place swab into clear bag and then blue bag (i.e. DOUBLE bagged)
• Place sample into rigid red transport boxes (at present on ITU, AMU, MTU, Torridge, Bramble and ED)
• Porters will collect swabs from above wards every two hours starting from 6:00am (this is a 24 hour service) and take directly to Old Path Lab
• No need to telephone Porters for Virology samples (though urgent blood samples will need portering to Blood Sciences in A template)
• All other samples from patients need to have ?COVID in clinical details as they need to be handled separately in the lab
• There is no need to telephone the lab in advance if the patient meets the case definition (the case definition may change so check HUB)
• Samples are processed daily 7 days a week, so expect a result the same day if the sample arrives before 1800
• Positive results will be telephoned; negative results will NOT be telephoned and you need to check Medway or IPS
• Please do not ring for results – we are inundated with telephone calls
---
Microbiology Newsletter January 2020
January 31st, 2020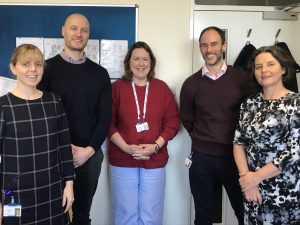 Microbiology Newsletter Jan 2020
---
GP Order Communications System (GP OCS)
May 14th, 2019
It is a pleasure to be able to finally advise you that the long awaited implementation of a GP Order Communications System (GP OCS) is now under way.
The aim of the project is to offer an electronic Pathology test ordering system for GP Practices sending samples to the RD&E, with this project both orders and results will be sent and shared electronically with the GP requesting the tests.
The system supplier has estimated it will take approximately 26 weeks to build the system and roll out to 5 pilot GP practices; we therefore are estimating delivery during the latter part of Q3, early part of Q4 of this calendar year.  The team will then roll out to the remaining sites, planning for 3 practices a week to go live; this is expected to take a further 3-4 months.
The project team with the supplier are currently developing the roll out schedule for this new system, should your Practice like to be one of the early adopters of this exciting project please contact the Programme Team at the following address:-
Chris Carr – Pathology Computer Systems Manager
Royal Devon and Exeter NHS Foundation Trust     Email: ccarr5@nhs.net
Should you have any queries relating to the project delivery please contact:
Richard Excell – IM&T Programme Manager
Royal Devon and Exeter NHS Foundation Trust     Email: richard.excell@nhs.net
The team at the Royal Devon & Exeter Foundation Trust look forward to working closely with you on this exciting project.
Sarah Hodder                                                                                                                                                                                                    Diagnostic Cluster Manager
---