C Peptide (Plasma)
---
Specimen
Plasma EDTA or centrifuged serum-gel tube.
Special Instructions
Must be sent to arrive to us at the laboratory within 24 h from collection. If the sample cannot be sent to us within 24 h from sample collection, centrifuge, aliquot and freeze sample and send specimen frozen.
Units
pmol/L
Test Usage
C-peptides are fragments derived from endogenous, but not exogenous, insulin and therefore may be used to assess endogenous insulin secretion even in patients who receive exogenous insulin therapy.
C-peptide testing is used in the investigation of unexplained hypoglycaemia and in the management of patients with insulin treated diabetes.
Investigation of hypoglycaemia:
A C-peptide concentration greater than 300 pmol/L during a hypoglycaemic episode (concurrant glucose <3.0 mmol/L),  is inappropriately high suggesting insulinoma or sulfonylurea ingestion. C-peptide is considered appropriately supressed if less than 94 pmol/L during hypoglycaemia. Indeterminate values are 94-300 pmol/L.
Management of Insulin treated diabetes
C-peptide measurement can assist classification and management of patients who have insulin treated diabetes. Clinical thresholds and interpretation for patients with insulin treated diabetes are shown in table 1 below. As the main clinical role of the C-peptide test in diabetes is identifying or excluding very severe insulin deficiency (present in longstanding Type 1 diabetes and associated with an absolute requirement for insulin) the role of C-peptide testing in non-insulin treated patients is limited
General interpretation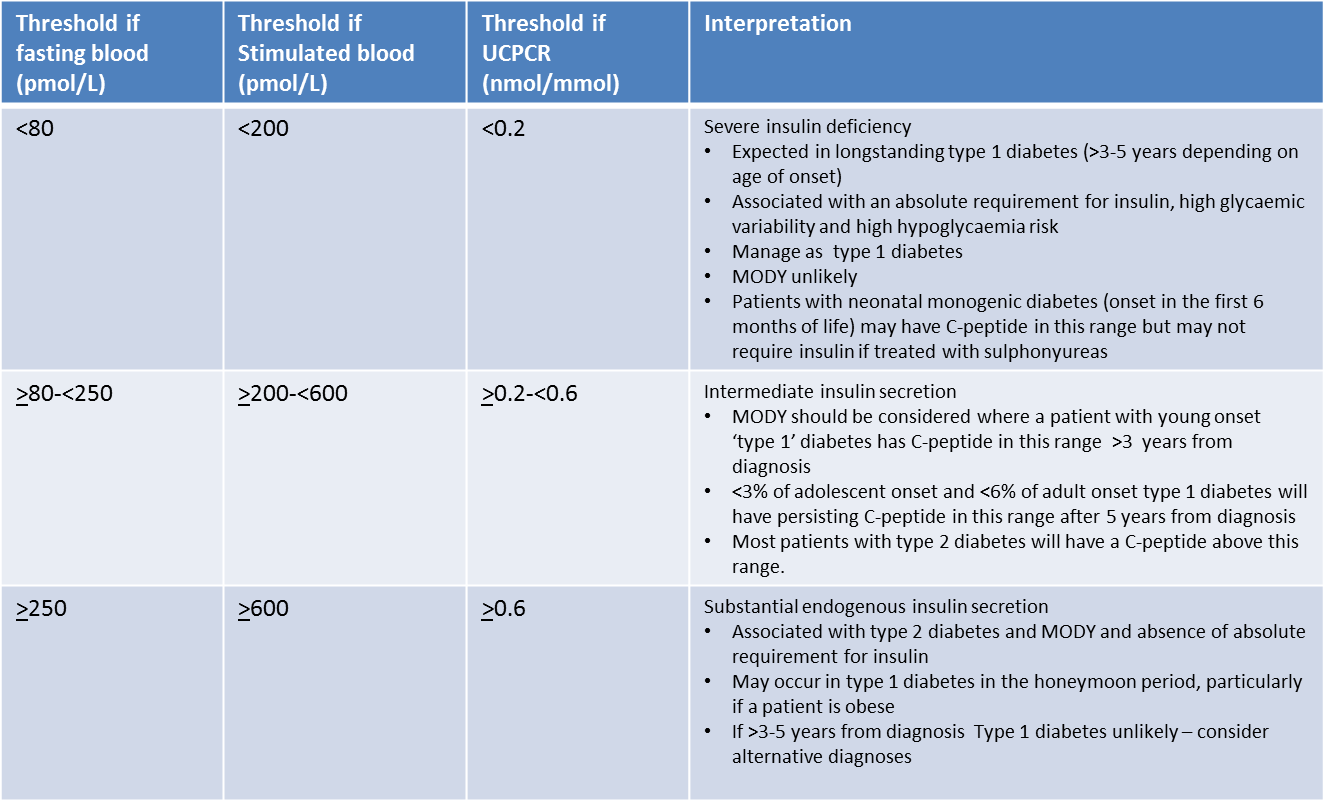 Availability
Local test
Turnaround Time
7 days
Cannot be added on to an existing request
REFERRALS
We welcome referrals for C-peptide monitoring. If you are a new requestor please complete the following form: New Requestor Form v3
We now also have the option to use NPEx for referral requesting.
Further information about sample requirements for this test can be found here: Plasma C Peptide – further information
Specimen Labelling Procedure