INR
Roche CoaguCheck® XS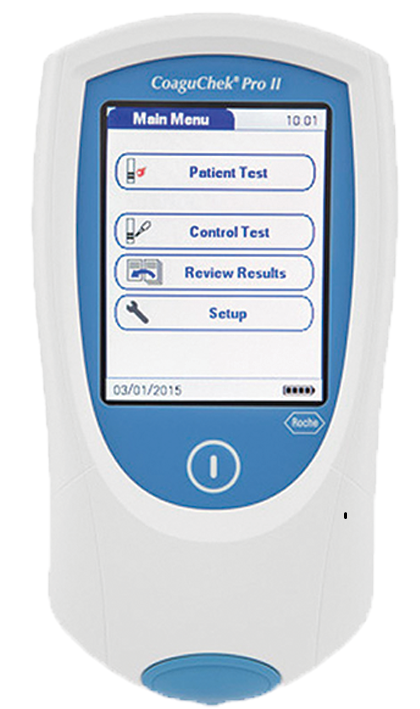 The Roche CoaguChek XS devices are used to monitor INR levels in patients who are taking warfarin. It is important for a patient to be prescribed sufficient warfarin to ensure blood clots do not form but equally important to ensure that too much warfain is not prescribed which could lead to excessive bleeding.
The CoaguChek system is intended for use by professional healthcare providers for quantitative prothrombin time for the monitoring of warfarin therapy (INR). The CoaguChek system uses fresh capillary or non-coagulated venous whole blood.
The INR is calculated from the prothrombin time; the test strip contains human thromboplastin; when whole blood is applied to the test strip clotting is initiated. This process generates thrombin which reacts with other chemicals in the strip to produce an electrochemical signal. This signal is converted by an algorithm encoded in the code chip into the INR reading displayed on the screen.
There are various models in use across the Trust and community sites including the XS, XS Plus and the Pro / Pro II models. The Pro II is the newest model and has enhanced connectivity which allows for patient results to be transmitted to patient eNotes.
Test strips and quality control material are available to purchase directly through the Trust procurement system; care should be taken to ensure the correct strips are purchased.
For further information details please the laboratory.
For maintenance, training & troubleshooting please contact Roche directly  https://diagnostics.roche.com/global/en/contact-forms/contact-us-support.html