HAEMOGLOBIN
Haemocue Hb 201+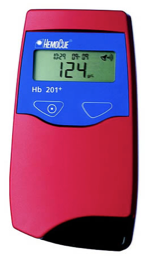 Location:
The HemoCue 201+ meters are used to measure haemoglobin and so help assess blood loss.
The Hemocue Hb 201 system provides lab accuracy and ease of use for point-of-care Haemoglobin measurement.
The system utilises an oxidation method to quantify haemoglobin concentration in around 15-45 seconds. Results are displayed as a digital reading in g/l. Newer models have connectivity capabilities allowing for results to be recorded electronically to patient eNotes.
When a drop of blood is applied to a 'microcuvette' a reaction takes place between the blood and chemicals in the microcuvette. A change in light absorbance is read by the device and the Hb concentration calculated.
For further enquiries e.g. training, ordering, maintenance or trouble shooting please contact the Haematology laboratory.
Thrombelastography
TEG 6s
Viscoelastic testing assesses the dynamic mechanical properties of a clot during its initiation, amplification and propagation and the finishing fibrinolysis. The TEG 6s device is a non-invasive diagnostic instrument designed to monitor and analyse the coagulation state of a blood sample in order to assist in the assessment of patient clinical haemostasis conditions during surgery and/or significant blood loss.
With LED illumination, a detector measures up/down motion of the blood meniscus. The frequency leading to resonance is identified and then converted to the TEG system readout.
The TEG 6s is indicated for use with adult patients. Results from the TEG 6s should not be the sole basis for patient diagnosis, but should be considered together with the patient's medical history, the clinical picture and, if necessary, other coagulation tests.
For further information or details please contact the laboratory.
For troubleshooting and maintenance please contact Haemonetics https://teg.haemonetics.com/en-gb/contact-us