News
New molecular testing for malaria
May 24th, 2017
As of the 22nd of May Exeter Clinical Laboratory will be using a new molecular technique to screen for malarial infections. Detail can be found here
---
D-Dimer age related reference ranges introduced
May 18th, 2017
As of 17 May 2017 the Blood Sciences laboratory will be reporting age related cut-offs for D-dimer. See more details on D-dimer test page.
If you require more information please contact haematology.
---
Specimen Labelling
May 11th, 2017
UKAS requirements recommend that the health professional taking a patient's blood should add their initials to each blood tube collected. We have updated the  Exeter Clinical Laboratorie's specimen labelling policy to reflect this as good practice. Further details can be found here
---
Newly qualified Clinical Scientist, Karen Stals, is nationally recognised for her contribution to diagnosing rare genetic disease
March 8th, 2017
You can read about the full story here!
---
Royal College of Pathologists User Satisfaction Survey
March 6th, 2017
Latest results available here.
---
Neonatal diabetes research paper receives "Distinguished Clinical Research Award"
November 8th, 2016
A publication resulting from collaboration between the Monogenic Diabetes team in Exeter and colleagues in Abu Dhabi has received the "Distinguished Clinical Research Award" from the American Association of Clinical Endocrinologists, Gulf Chapter. You can access the paper here.

---
Blood Sciences lab received new state-of-the-art robot
August 22nd, 2016
The Blood Sciences laboratory has taken delivery of a state-of-the-art robot to improve the translational research undertaken in the department. The £130,000 robot was bought by the University of Exeter in recognition of the award winning collaborative research undertaken in partnership between the Royal Devon and Exeter Hospital and the University of Exeter Medical School. Professor Noel Morgan, the Director of the Institute of Biomedical and Clinical research at the University of Exeter was there for the unveiling of the new robot.
Read more:https: //hub.exe.nhs.uk/a-z/newsroom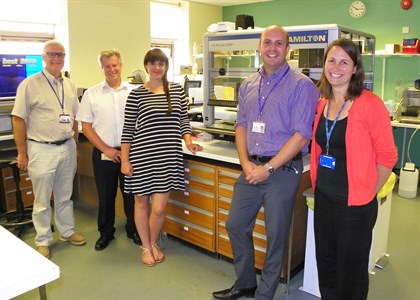 (Picture left to right- Professor Noel Morgan (Director of the  Institute of Biomedical and Clinical Research, UoEMS), Adrian Cudmore (Laboratory manager), Rachel Nice (Research BMS), Dr Tim McDonald (Clinical Scientist), Dr Mandy Perry (Clinical Scientist)- New robot in the back ground!)
---
South West celebrates 100,000 Genomes Project
July 4th, 2016
Families affected by rare conditions or cancer across the South West are having their genomes sequenced as part of a national bid to shed new light on the genetic causes of disease.
Since launching in December 2014, the South West NHS Genomics Medicine Centre (SWGMC) has enrolled 372 patients with a rare disease, or cancer, for genome sequencing to understand more about their condition. Nearly 4000 samples will be provided by hospitals across the South West.
On 28 June, patients and their families  joined  with healthcare professionals from across the region to celebrate the project. The South West NHS Genomics Medicine Centre is a partnership between 7 NHS hospitals in Devon, Cornwall and Somerset, supported by the South West Academic Health Science Network.  The 100,000 Genomes Project was announced by the Prime Minister in 2012 to transform diagnosis and treatment for patients with cancer and rare diseases in the fast-emerging field of genomic medicine.
Opening the day,  Professor Sue Hill, Chief Scientific Officer at NHS England,  described  the aims of the national project and how it will shape future healthcare. Professor Sian Ellard, Director of the South West NHS Genomic Medicine Centre and Professor of Genomic Medicine at the University of Exeter Medical School, reported local progress before two families talked about their experience of the project.
Professor Ellard explained why this project is so important:
"Genomic medicine will improve healthcare in many ways, through better diagnosis and treatment of rare diseases and increased knowledge of cancer biology to devise better therapies. We're really proud of the contribution we have made to the national goal of sequencing 100,000 genomes and would like to share our progress with those involved – healthcare staff, patients and their families."
The role of the SWGMC is to enroll patients to the project and to communicate the genome sequencing results back to patients. One of those patients is Aidan Scholey. Seven-year-old Aidan is the first member of the Scholey family to show signs of a rare genetic condition, and his mother Maria hopes the 100,000 Genomes Project will help provide some answers.
Aidan's condition is so rare that it has not yet been diagnosed with a named condition. His parents were not worried when he was born small, but over time Aidan's lack of growth gave clues that his development was showing signs of a disease. Still small for his age, Aidan also has a retinal dystrophy that impairs his vision.
Maria Scholey, who lives in Exeter, said: "Aidan is a happy, placid and much-loved little boy. We're hoping that a genetic diagnosis would give us more information about the longer term implications of his condition and how it might develop. Genetic therapies are also a rapidly-evolving area of medicine, so it is possible that getting involved could mean that Aidan could receive help in future."
The family has provided blood samples to the South West NHS Genomics Centre. It is hoped that the genome sequencing will provide a diagnosis for Aidan and others like him – but the family is aware that it may not find the answer.
Mrs Scholey said: "It would be great to get a diagnosis for Aidan, but even if we don't, we see our involvement as part of a bigger picture. It's possible that we may even find out something we don't want to know about the way Aidan's condition will develop – but this is far bigger than just one child. It's about contributing to information that can be shared worldwide and could help others. It's the future of medicine."
For more information, please contact: Marie Taylor on 01392 – 408208 or mobile 07730427592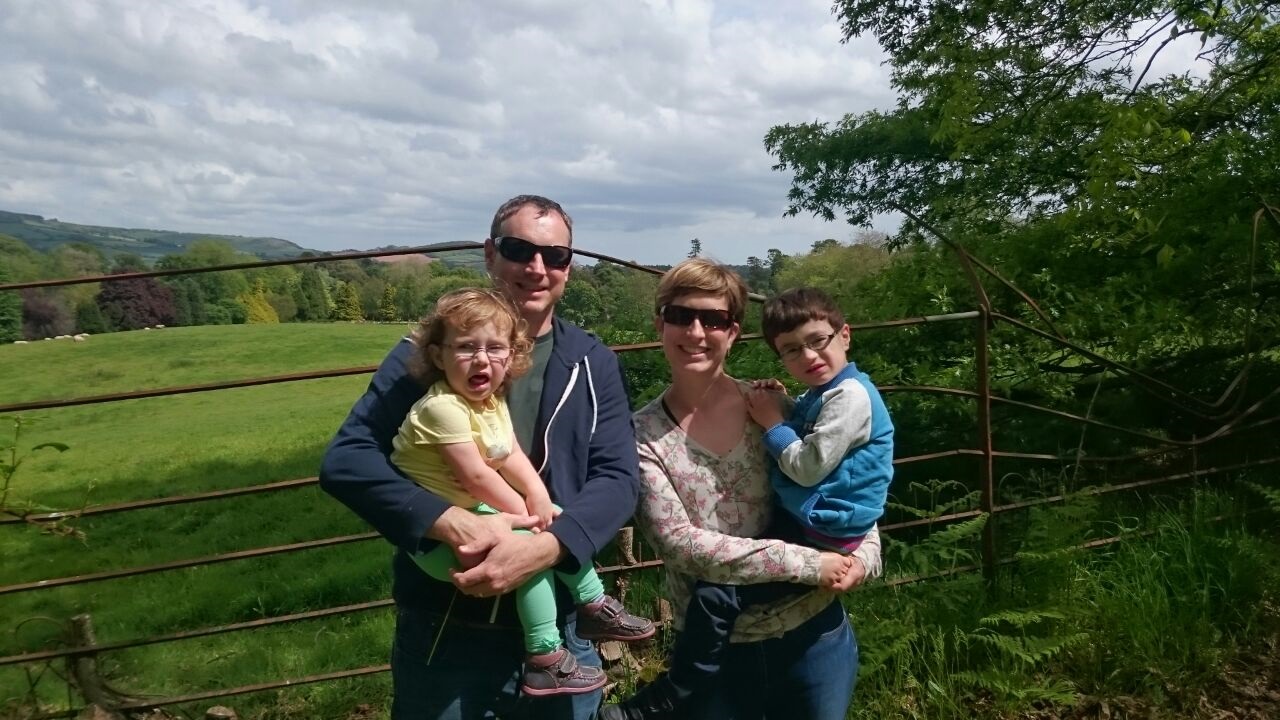 Mr and Mrs Scholey with Aiden and Erin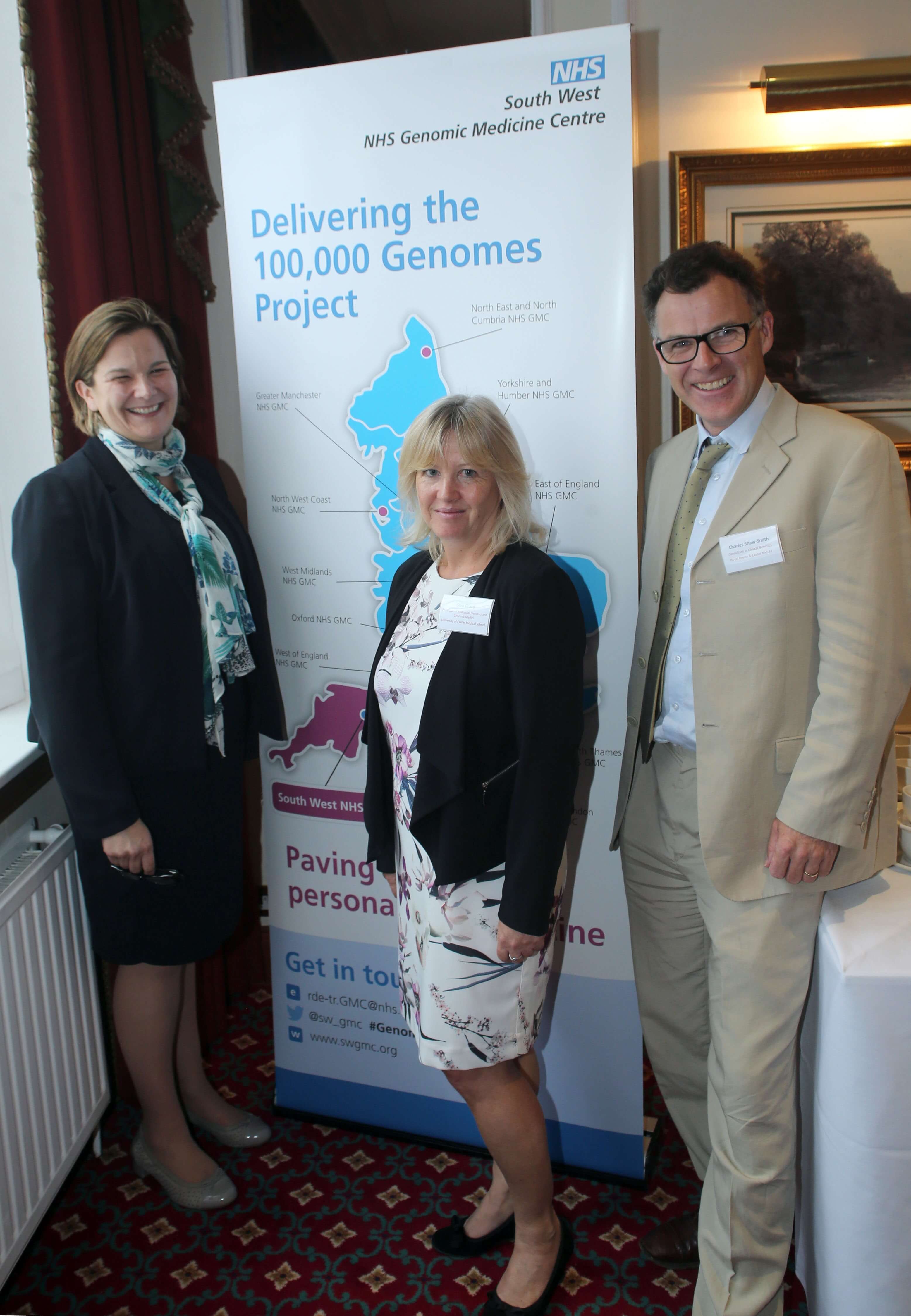 From the left: Rosie Benneyworth, Managing Director of SW Academic Health Science Network; Professor Sian Ellard, Director of the South West NHS Genomic Medicine Centre; Dr Charles Shaw-Smith, Consultant Clinical Geneticist and SW GMC Rare Disease Lead
---
Trainee Scientists inspiring the next generation at the Big Bang Fair SW 2016
June 30th, 2016
Trainee scientists enrolled on the NHS Scientist Training Programme (STP) spent the day at Exeter University participating in the regional Big Bang Fair, with activities to engage and inspire young people 11-17 years old to take STEM subjects and look to careers within the NHS. STP trainees from hospitals in Exeter, Bristol and Bath representing several specialisms (Genetics, Clinical Bioinformatics, Vascular Sciences and Reconstructive Sciences) enjoyed the day talking to the children and demonstrating the sort of jobs healthcare scientists do, getting the children involved and encouraging them to ask questions. The activities including modelling prosthetics, assembling a genome, examining blood vessels with an ultrasound scanner, extracting DNA from peas and karyotyping socks!
We had a very busy day with lots of students, teachers and home-educating parents from across the South-West region visiting the stand and we think we've inspired a few healthcare professionals of tomorrow.
For more information about the Big Bang Fair SW go to http://nearme.thebigbangfair.co.uk/south_west/.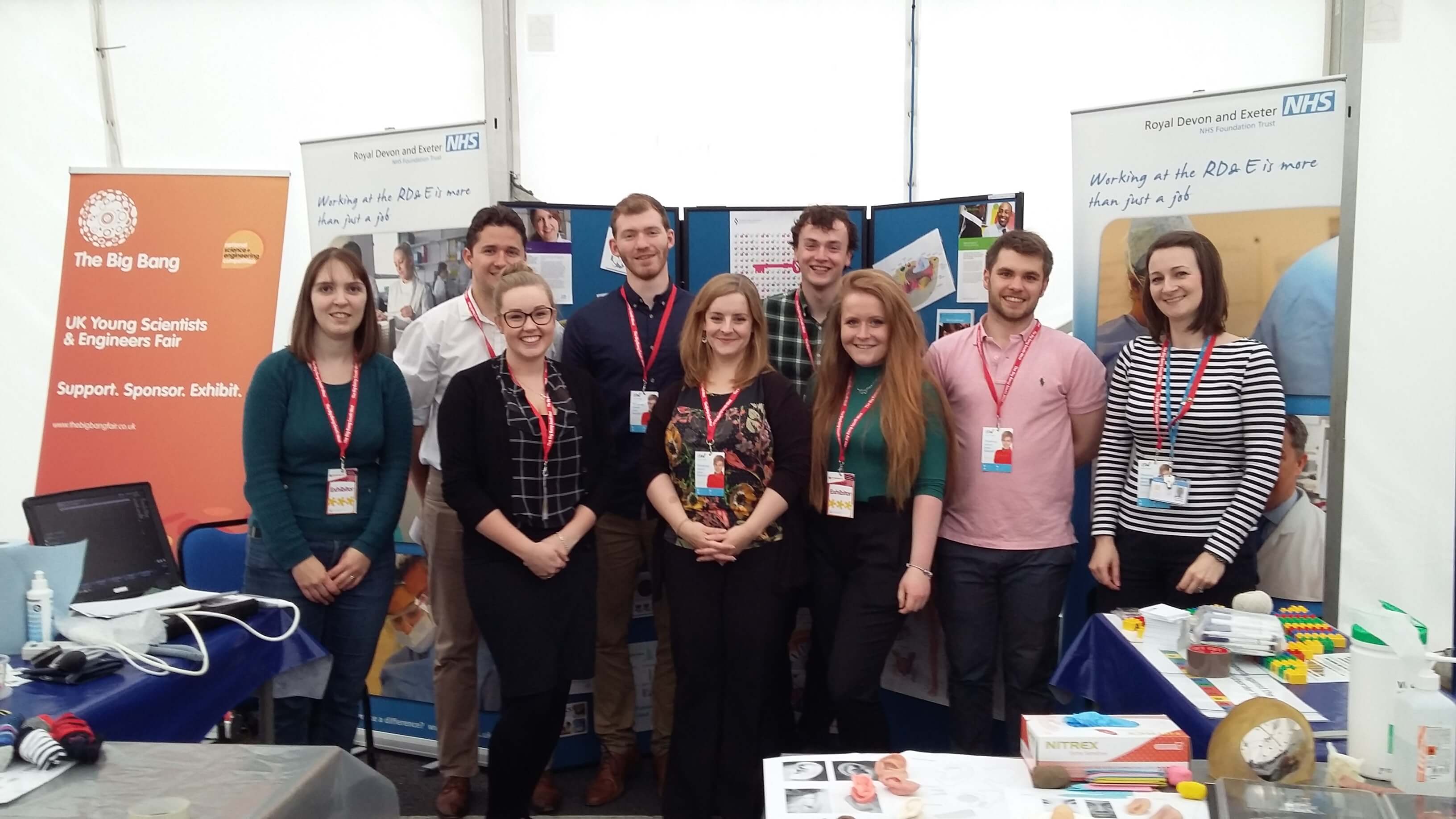 From L-R: Hazel Pearce (Genetics STP), Christopher Curd (Vascular Science STP), Charlotte Tudgay (Genetics STP), Ryan Ward (Vascular Science STP), Verity Fryer (Bioinformatics – Genomics STP), John Hignett (Genetics STP), Laura Hamilton (Medical Student), Stuart Cannon (Bioinformatics – Genomics STP), Amy Davey (Reconstructive Science STP)
---
New Cobas e-601 Random Access Analyser
June 27th, 2016
As of Tuesday 21st June 2016, we have moved some Virology  Serology Testing (HIV, Hepatitis B surface antigen, Hepatitis B core antibody, Hepatitis C antibody, Syphilis antibody, HTLV  and Hepatitis B surface antibody)  onto the Cobas e-601 random access analyser.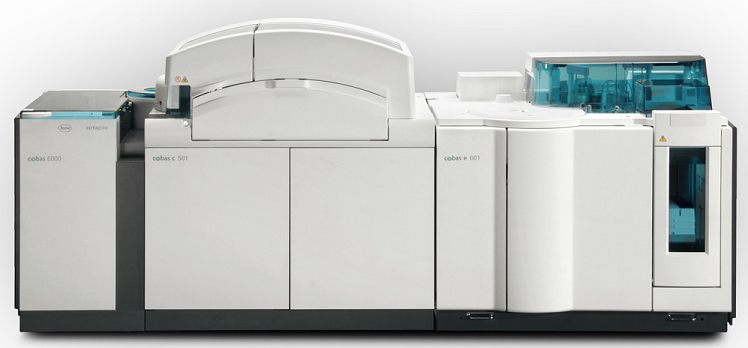 The only difference you should notice is the wording on some of these reports – please see below for examples:
Negative samples will be reported as Non-reactive
POSITIVE samples will be reported as REACTIVE
Click here for report examples
---